Maintenance:
Must Read! Use Common Sense!
Pressure is an essential part of an Aviso surfboard. Proper venting will enhance performance and lower risk of damage.
Sealing Instructions:
Seal while board is in a cool state, to match the ocean temperature. Use shade, ocean water or garden hose etc. Best results can be achieved in ocean water just prior to paddling out. Rest the board in the water for a few moments to acclimate to sea temperature, remove the board from the water, unscrew the plug to stabilize air pressure, then screw the plug back in (or if that's not practical, in morning or evening when dew point has fallen -- when water molecules have formed on the window, lawn, car, etc...). See instructions below on leash plug.
Leash Plug:
Check and clean the threads of the leash plug for sand or dirt particles.
Apply silicone grease to leash plug and install by screwing into the board. Screw leash plug in finger tight, or about 1/4 turn past snug. If you use pliers, use them lightly!
Travel Maintenance:
Inspect the board (actually look at it). Does it look bigger or smaller? If so, unscrew the plug. Do you hear the sound of air or feeling of pressure release?
• If yes, proceed to cool board and follow sealing instructions.
• If no, you probably keep your board out of direct sunlight and own a board bag.
Repeat this sealing procedure every 1-3 weeks, or if you travel to surf in warmer or colder water.
Important: Always remove plug when traveling by air.
Click here to check out our information video:
Aviso is not responsible for problems due
to wrongful vent/drain plug negligence!
For best results, board should be pressurized
to sea temp. When sea temp changes,
re-pressurize to the new sea temp.
Repairs
Though Aviso surfboards are the most durable boards available, like any board they may still require repairs. Minor repairs can be made by the customer. Aviso sells a Repair Kit for such occasions.
Aviso Repair Kit Contents:
1 instruction sheet
1 sheet of carbon fiber, 6"x18"
1 sheet of fiberglass cloth, 6"x18"
2 sheets of pink release film, 7"x20"
2 packages of 2-part extra-fast setting epoxy resin (4 grams each)
2 packages of 2-part regular setting epoxy resin (22 grams each)
2 brushes
1 plastic squeegee
4 wooden stir sticks
2 sheets 80 grit wet-or-dry sandpaper
2 sheets 220 grit wet-or-dry sandpaper
3 red mixing cups
Click on this video link to learn how to properly repair your Aviso.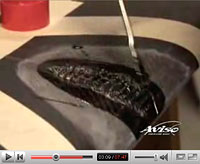 Serious damage such as buckles or breakage will require repair at the factory. Contact your Aviso dealer or the factory directly (See Contact Page).